a co-production / eine Koproduktion
by / von
John Waldron and / und Amy J. Klement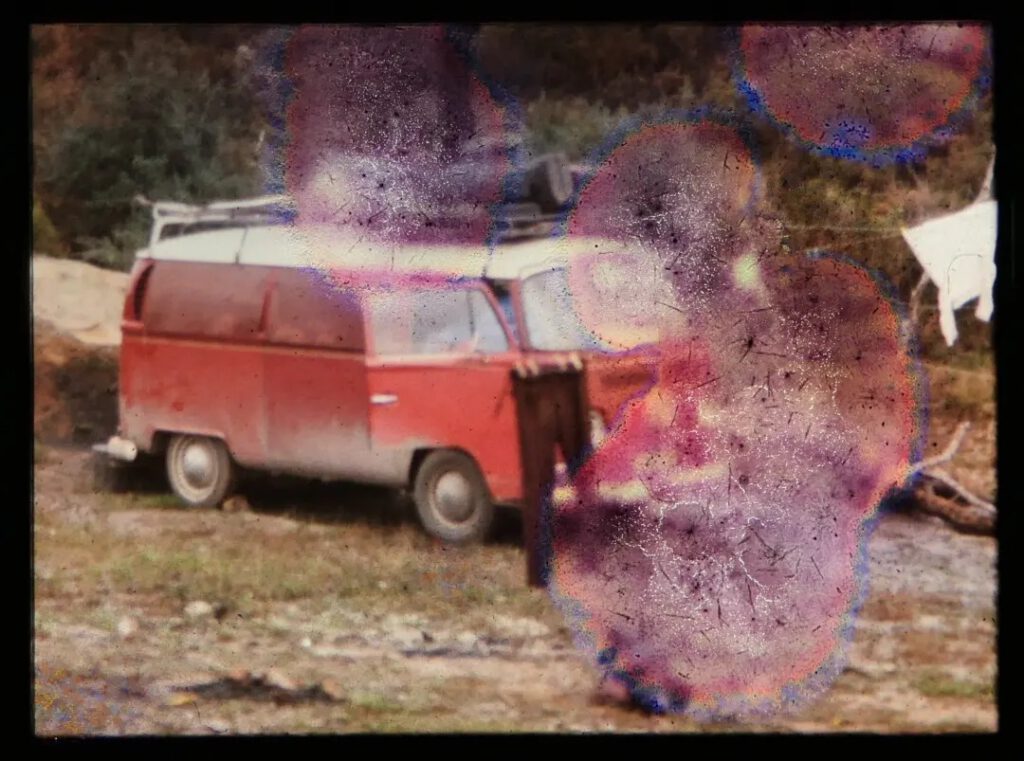 Untitled / Ohne Titel, 2023
Vernissage:
Donnerstag, 02.02.2023 / 19:00 – 22:00 Uhr
Mit Geiger-Musik von Sorcha Thompson um 20:15
Opening:
Thursday, February 2, 2023 / 7 – 10 p.m.
With violin music by Sorcha Thompson at 8:15 p.m.
"Henning's Hoard" is an analogue slide photo installation excerpted from a life filled with travel, romance, van life, wilderness, and faded memories.
While editing the nearly 3000 slides new forms emerged from Henning's faded memories. Some of the slides turned out to be so corrupted by mold that they perhaps are no longer slides, but another type of art altogether (as in the picture reproduced above).
One of the questions we were able to get an answer to while editing was why Henning suddenly stopped taking photos in the early 1980's. The slides were then presumably packed up in a crate and put in his attic, the memories apparently too difficult for him to re-visit in all the years until his death in the spring of 2020.
After such a long time in the attic and exposed to the elements of Berlin cold winters and scorching summers, "Henning's Hoard" has now taken on a life of its own.
****
"Hennings Hort" ist eine analog Diafoto Installation exzerpiert von einem Leben voller Reisen, Romanze, Karavanleben, Wildnis, und verblassenden Erinnerungen.
Bei der Bearbeitung der fast 3000 Dias entstanden aus Hennings verblassten Erinnerungen neue Formen. Einige der Dias waren durch Schimmelpilzbefall so stark beschädigt, dass sie vielleicht gar keine Dias mehr sind, sondern eine ganz andere Art von Kunst (wie auf dem oben abgebildeten Bild).
Eine der Fragen, auf die wir bei der Bearbeitung eine Antwort finden konnten, war, warum Henning Anfang der 1980er Jahre plötzlich aufhörte zu fotografieren. Die Dias wurden dann vermutlich in eine Kiste gepackt und auf seinem Dachboden gelagert, da es ihm offenbar zu schwerfiel, die Erinnerungen in all den Jahren bis zu seinem Tod im Frühjahr 2020 wieder aufzusuchen.
Nach einer so langen Zeit auf dem Dachboden, wo sie den Elementen der kalten Berliner Winter und der sengenden Sommer ausgesetzt waren, hat "Hennings Hort" nun ein Eigenleben entwickelt.